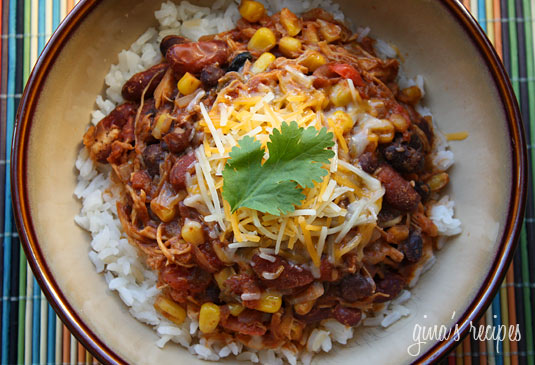 This delightful recipe came from Gina Holmolka at SkinnyTaste.com. Thanks for the tasty recipe Gina!
Crock Pot Chicken Taco Chili
Servings: 10 | Calories: 203.7 | Fat: 1.4 g | Carb: 33.3 g | Fiber: 10.0 g | Protein:16.9 g
Ingredients:

1 onion, chopped
1 16oz can black beans
1 16oz can kidney beans
1 8oz can tomato sauce
10oz package frozen corn kernels
2 14.5oz cans diced tomatoes w/chilies
1 packet taco seasoning
1TBS cumin
1TBS chili powder
24oz (3-4) boneless skinless chicken breasts
chili peppers, chopped (optional)
1/4 cup chopped fresh cilantro
*Sometimes I add 3 or 4 cups of low-sodium beef broth to give it some extra flavor and to create a more soupy consistency (note that the nutritional facts above do not include the addition of beef broth)
Directions:
Combine beans, onion, chili peppers, corn, tomato sauce, cumin, chili powder and taco seasoning in a slow cooker. Place chicken on top and cover. Cook on low for 10 hours or on high for 6 hours. Half hour before serving, remove chicken and shred. Return chicken to slow cooker and stir in. Top with fresh cilantro. Also try it with low fat cheese and sour cream.
Grandmother's Buttermilk Cornbread
I also like to serve a warm piece of delicious cornbread with this meal. My husband and I have tried many recipes and found this one to be our favorite thus far (my husband is SUPER picky about his cornbread too)! This recipe was copied from AllRecipes.com.
Servings: 9 | Calories: 284 | Fat: 12.2 g | Carb: 39.1 g | Fiber: 1 g | Protein: 4.8 g
1/2 cup butter
2/3 cup white sugar
2 eggs
1 cup buttermilk (I never have buttermilk so I add 1TBS of White Vinegar to the cup of milk and let it sit for 5 minutes)
1/2 teaspoon baking soda
1 cup cornmeal
1 cup all-purpose flour
1/2 teaspoon salt
Directions:
Preheat oven to 375 degrees F (175 degrees C). Grease an 8 inch square pan.
Melt butter in large skillet. Remove from heat and stir in sugar. Quickly add eggs and beat until well blended. Combine buttermilk with baking soda and stir into mixture in pan. Stir in cornmeal, flour, and salt until well blended and few lumps remain. Pour batter into the prepared pan.
Bake in the preheated oven for 30 to 40 minutes, or until a toothpick inserted in the center comes out clean.