Short side story: I began penning this tale about a month after returning home from NZ, however, I only made it about two paragraphs in before abandoning it for almost four months! I'm sorry!! I was busy with my little business!! You leave me alone!! Ha ha ha! Anyway…
I tell ya, those Europeans, man… they just looooooove to rub it in—"You are only here for two weeks? We are here for three months.", said the well-rested looking German in his beautiful accent. Well la-de-freakin-da, jerk! 😉 Oh the things we could have done with three months in New Zealand, but alas, we had only two weeks… We sure did make the best of our time, though!
After twenty-I'd-rather-forget-how-many-hours of travel time from Japan, to China, and then FINALLY to New Zealand, we hired our trusty campervan, Big Blue, and drove that bad boy from Auckland (in the north island) all the way down to Wanaka (in the south island) and back up to Christchurch! We covered approximately 2,600 mind-bogglingly-beautiful kilometers (1,616 miles)! FYI: New Zealand is my new favorite country (outside of the US, of course)! It's brightly colored and beautiful landscape is a magnificent sight to see and the local people are truly some of the friendliest and most cheerful folks we've ever met! There were a few times throughout the trip that I had to smack myself to make sure that I hadn't died and gone to heaven, although I'm not entirely sure that I'd go to heaven, but that's a story for another day. There were so many wondrous things that I could go on about for hours upon hours, but for the sake of brevity and your sanity, I'll only feature a few of my favorite New Zealand destinations.
I'll begin with the location of the second night of our trip, Hot Water Beach. It's located on the east coast of the Coromandel Peninsula in the North Island. As one might guess, it's a beach with hot water! The gorgeous South Pacific waves that crashed up along the sandy shoreline were not hot, not by any stretch of the imagination. However, within two hours on either side of low tide, it's possible to dig your way down to hot water. The hot water, which can reach temperatures of 64°C (147°F), comes from two underground fissures that are within close proximity of one another. This is guess, but I'd say there's about a 50 foot by 90 foot area (if Mike reads this, he'll challenge me on those numbers, no doubt) that you can dig in, if you dig outside that area, well, you may as well just hop in the ocean. Our visit to Hot Water Beach was quite lovely. We camped at the nearby holiday park and awoke in the wee hours of the morning, grabbed the spade we hired and headed to the beach. The sun was just beginning it's morning rise over the ocean as we dug our little hot water hole. We were both plopped happily in our hole just as the entire sun came into view. We enjoyed our semi-private bath for a few more hours before starting up Big Blue and heading out.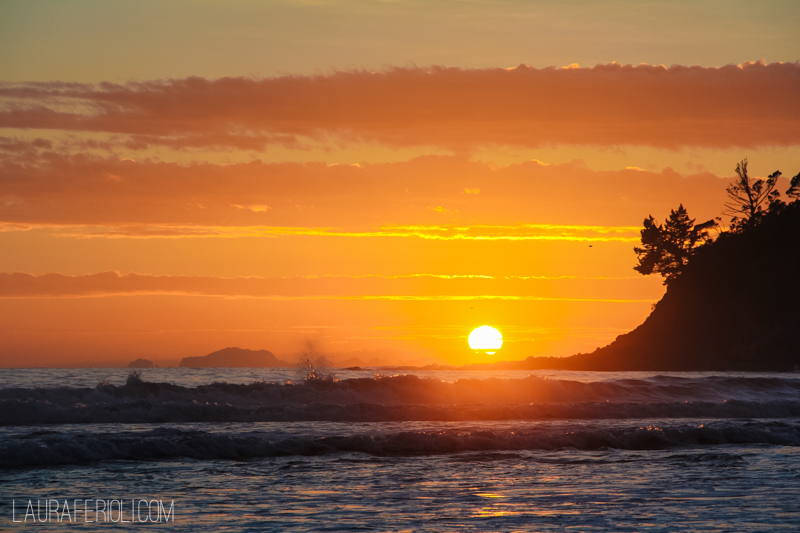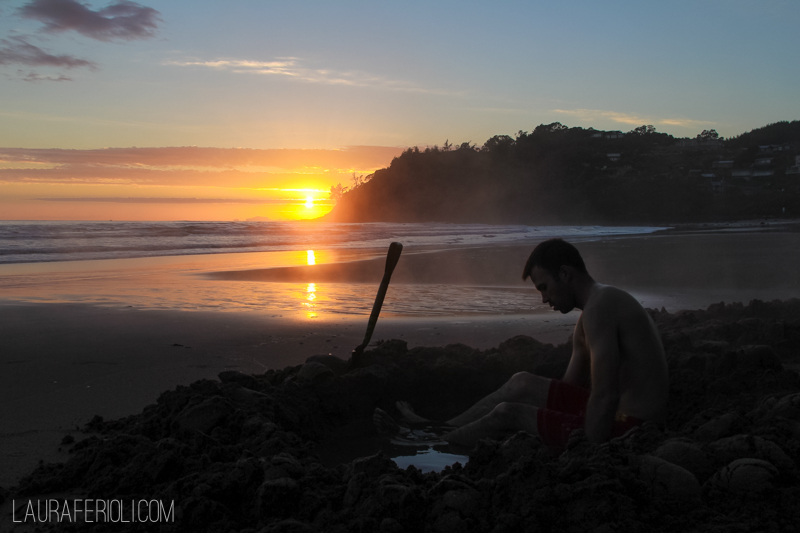 Our next big adventure began at the trailhead of the Sealy Tarns track in Aoraki/Mount Cook National Park. We started our journey in the sun and then proceeded to hike through rain and sleet as we zig-zagged through alpine scrub, tramped (as the New Zealanders would say) through a muddy rock field and crossed steep snow slopes on our way to Mueller Hut. My wet, cold and tired body was very happy to see that beautiful red hut in the midst of a massive snow field. Soon after we arrived at the hut, the weather cleared and we were blessed with amazing views of our surroundings. This was my first time staying the night in an alpine environment and it was magical! Yes, that's right, I said magical, get over it! 😉 I warmed up in the hut as Mike hiked around and later that evening we cooked our dinner in the big kitchen while conversing with the locals. We met a man named, Steve, and chatted with him well into the night, sharing past hiking stories and talking about our travels. A few times we even braved the cold winds out on the deck to take in the views of the surrounding peaks at night. The moon's light reflected off of the snow-covered peaks in the night sky as avalanches sounded off in the distance. There's a smile on my face as I type this, remembering how in awe and humbled I felt that night. We arose to a beautiful sunny day with scattered clouds. We ate our breakfast and then packed up before scrambling up the rocky ridge line just above Mueller Hut to the summit of Mount Olliver. This was of particular significance to both Mike and I as this was the first major climb Sir Edmund Hillary (the climber who's career culminated in the first ascent of Everest) had completed back in 1939, a man who we've both read about in books. After a few pictures at the top of Mt. Olliver, we scrambled back down to the hut, gathered our things and said goodbye to the beautiful red hut as we decended across the snow field. Our hike down was breathtaking as we were able to enjoy the truly magnificent views of Mueller Glacier, and the hanging glaciers and stunning ice shelf on Mount Sefton. We, again, heard the echoing sounds of avalanches falling as we skied-in-our-boots/glissaded our way down through the steep snow fields and zig-zagged back through the alpine scrub until Big Blue was in view again, once again.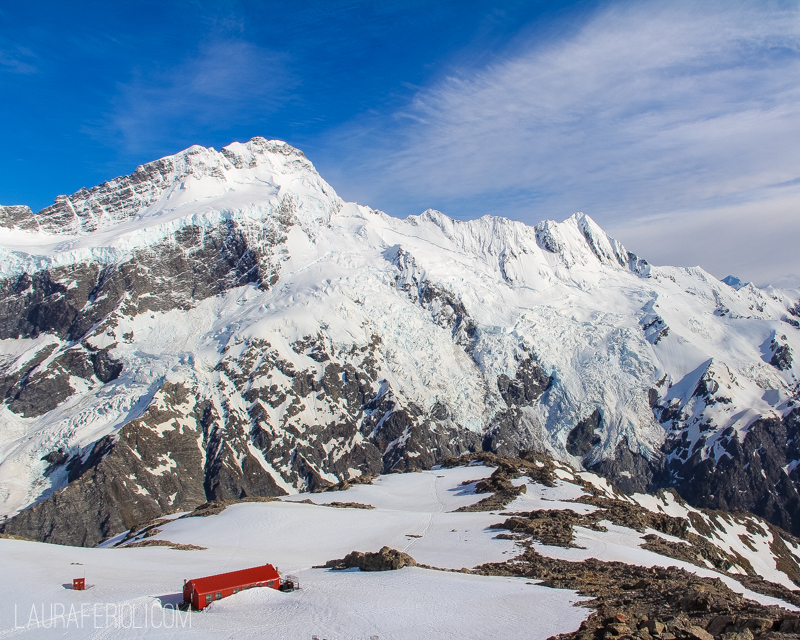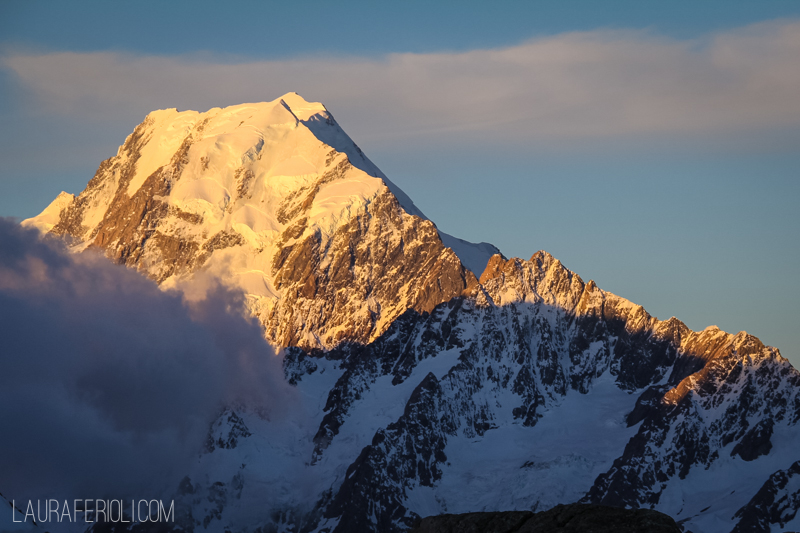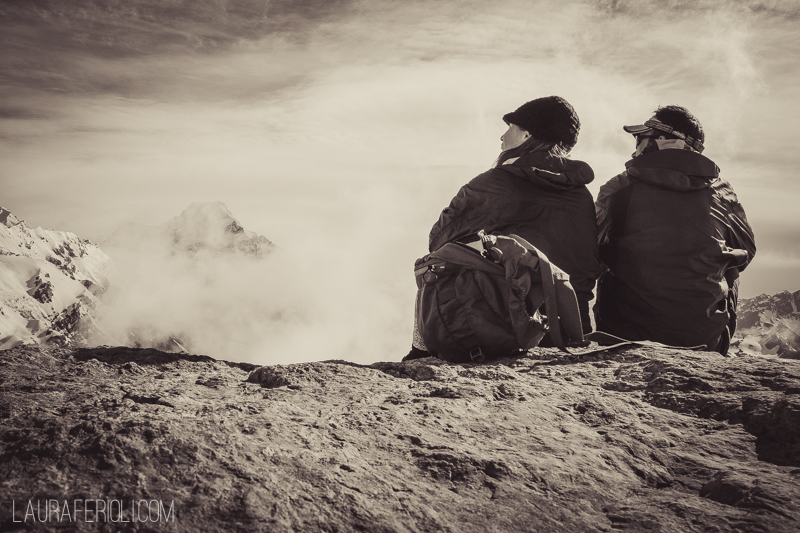 We ended our trip with a drive up Arthur's Pass and on our way out, we stopped at Castle Hill. Castle Hill has been dubbed as one of the world's finest climbing areas. It's landscape of enchanting limestone rock formations emerging from the 700 meter (about 2,297 feet) high grassy hills that they stand on makes you feel like you've been transported into an alternate universe. Matter of fact, in 2002 it was named a "Spiritual Center of the Universe" by the Dalai Lama himself! This already majestic place was also surrounded by magificent mountain peaks all along the horizon, as far as the eye could see. I'm telling you, it was an alternate universe! 😉 As we meandered our way through this massive field of huge boulders that looked as if they had been warn down by the ocean tides, there was definitely a feeling of calmness that swept over me. Perhaps it was because Mike was, per usual, doing all the work! Ha ha ha! We had picked up a book on the area prior to our arrival, but that, unfortunately, didn't make our—make that, Mike's—route finding much easier in the maze of boulders. We were able to get on a couple sport routes before we started chatting with a couple from Germany (we've now decided that there are more Germans in New Zealand then there are New Zealanders). They were visiting the country for THREE MONTHS!!! Saying that I was a little jealous, would be a massive understatement! 😉 We ended up climbing with them and another local guy they had met for the rest the day. Mike and I tend to stick to sport and trad climbing, as we are more adventure-seekers, but after spending the afternoon bouldering with the Germans, I have a new appreciation and love for the social aspect of climbing closer to the ground. Our Zen-like day climbing at Castle Hill will never be forgotten, that's a promise, now take us home Big Blue!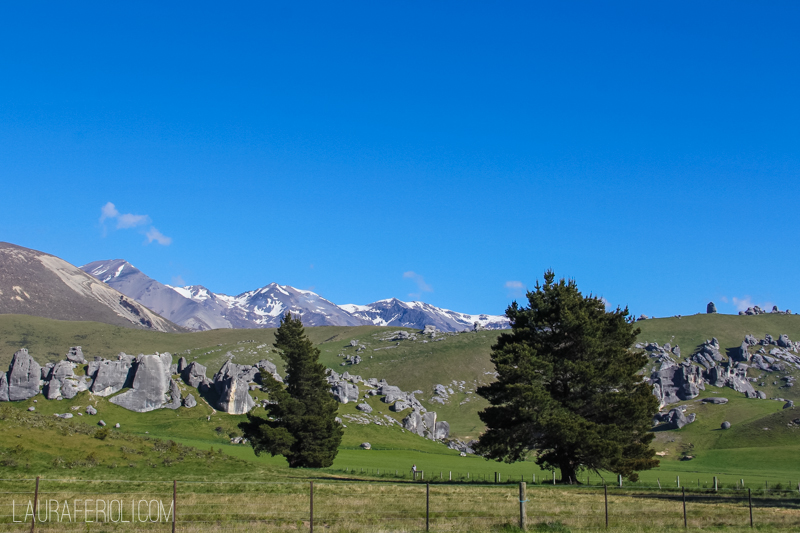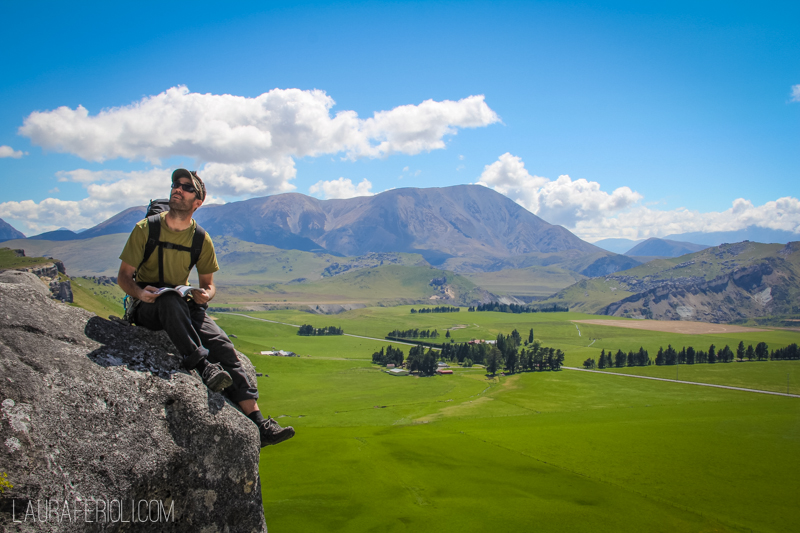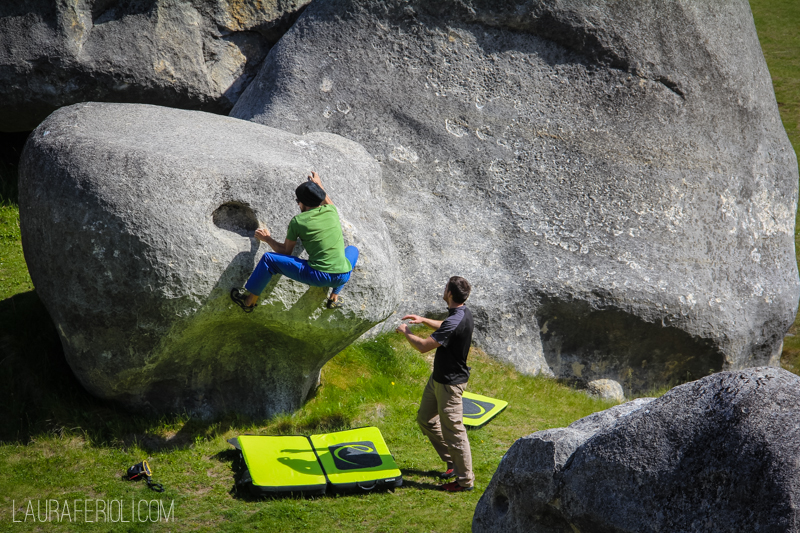 From the busy streets of Auckland, to the majestic mountain peaks of Aoraki/Mount Cook National Park, New Zealand is even more beautiful and amazing then I had imagined it to be. I will forever be grateful for the opportunity to have visited such an awe-inspiring place and I can only hope that someday we'll have the opportunity to visit once again! (New Zealand Steve, if you're out there, I'm still waiting on your answer regarding my adoption request!) 😉
… now to edit all that video footage I have…